IMPM will be showcasing all of it's prototyping and molding processes at the Design 2 Part show in Uncasville, Connecticut on April 24 & 25. The show will be held at the Mohegan Sun Exposition Center (1 Mohegan Sun Blvd, Uncasville, CT 06382) and we will be at booth 233.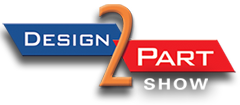 Click here for free admission to the show.
IMPM services rapid prototyping/tooling and low-volume plastic molding needs for industries across the board. From 1-100,000 parts, IMPM is sure to provide a valuable solution for you.